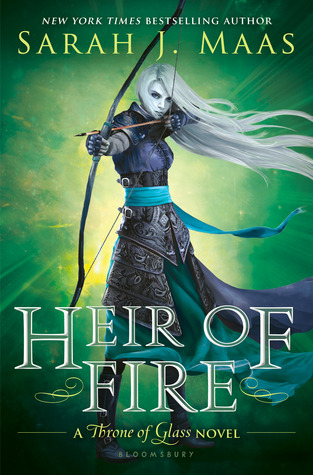 Title: Heir of Fire

Author: Sarah J. Maas

First Published: 2nd September 2014

Series: Throne of Glass #3

Genre: YA, Fantasy, Romance

Available As: Hardcover, paperback, ebook

Pages: 562

My Copy: Ebook

My Rating: 7.5/10
Goodreads Summary:
Celaena Sardothien has survived deadly contests and shattering heartbreak—but at an unspeakable cost. Now she must travel to a new land to confront her darkest truth...a truth about her heritage that could change her life—and her future—forever.

Meanwhile, brutal and monstrous forces are gathering on the horizon, intent on enslaving her world. To defeat them, Celaena must find the strength to not only fight her inner demons but to battle the evil that is about to be unleashed.

The king's assassin takes on an even greater destiny and burns brighter than ever before in this follow-up to the New York Times bestselling Crown of Midnight

I'm sad to say that I was kinda disappointed in this one. It wasn't as interesting to read as the previous two books. So far, I believe the second one, Crown of Midnight, was the best one. I felt that the book dragged on for a little too long.
All throughout the book, we see Celaena mope and dwell on her self-pitying. No longer the young girl she once was in Throne of Glass, she is now cold and distant from everyone else. After the betrayal of Chaol and death of Nehemia, Celaena has closed off her heart from anyone. A pity, really. She deserves so much more than she got.
In this book, Celaena is conflicted on her past and identity - does she
really
want to embrace her Fae side and become Aelin? Or does she want to stay as Celaena, the assassin hiding in the shadows? Celaena spent 80% of the book training with Rowan, trying to master the magic inside of her. She can control fire, and ironically, Dorian can control wind and ice. Why is it always fire?
The king of Adarlan is cruel and ruthless - he doesn't care about anyone as long as he gets to be king. The fact that he can
*spoiler*
turn against Dorian once he found out that he had magic as well shows that he has no heart. Poor Dorian! I hope everything turns out okay for him. Maybe Celaena will find a way to save him? Although I'm not so sure Celaena wants to save him. *spoiler over*
Dorian finally fell in love for someone else after his heartbreak over Celaena. Sorscha seemed to be a good choice for him: the prince and the healer. But we all know that ship sunk soon. I must say, it seems like Celaena, Dorian and Chaol are competing for the championships of sadness and heartbreak. They never get a moment of happiness, do they?
Now, who is this Manon? She's ruthless, manipulative, clever and evil. Okay, maybe evil takes it a
bit
too far, but I haven't seen any acts of mercy or kindness from her yet. I doubt I will. I believe her path will cross with Celaena's soon - will she be an ally or an enemy? I guess I'll have to wait for Queen of Shadows to find out.
Even though I didn't enjoy this book as much as I hoped to, I will read Queen of Shadows because I want to know what happens next. Will Celaena forgive Chaol? What will happen to Dorian? Is there a future for Celaena and Rowan? So many questions! :)
My Chosen Quote:
"She was the heir of ash and fire, and she would bow to no one."