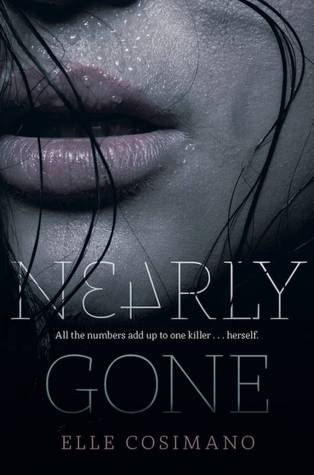 Title: Nearly Gone

Author: Elle Cosimano

First Published: March 25th 2014

Series: Nearly Gone #1

Genre: YA, Mystery, Thriller

Available As: Hardcover, paperback, ebook

Pages: 386

My Copy: Physical copy

My Rating: 9/10
He revved the engine and I held tight with both hands as the bike lurched forward, We zoomed down streets, leaning into the curves, wind whipping over me. I pressed into his back until all I could smell was the leather tang of his jacket, and all I could taste was the sweet thrill of flying away.

Keeping secrets is second nature to Nearly Boswell. Living in a trailer park outside Washington, DC, with a mom who works as an exotic dancer, she knows better than to share anything that would make her a target with her classmates. Only her best friends know about her obsession with the personal ads, and Nearly hasn't told anyone about the emotions she can taste when she brushes against someone's skin.

Then a serial killer goes on a murder spree and starts attacking students, leaving cryptic ads in the newspaper. Nearly might be the one person who can put all the clues together, and if she doesn't figure it out soon - she'll be next.

Big, dark, scary, and brilliantly plotted, Nearly Gone will leave you guessing until the very end.
It's been a while since I've read a mystery book that wasn't by Agatha Christie! But this was phenomenal. Nearly (or Leigh, as she likes to call herself) spends her days reading the personal ads in the newspapers. When someone begins writing riddles in cryptic ways that seems to link to the murders happening in Nearly's school, it's time for her to figure out the clues and stop the killer before s/he strikes again.
As the list of murders gets longer and longer, the more Nearly was desperate to find the killer. Working with Reece, the narc that the police have sent to investigate her, she finally finds out who the real killer is.
Cosimano brilliantly lays out all the clues right in front of our eyes, but at the same time planting red herrings all around until we have no clue what we really know. I had my suspicions as the book progressed, but I was wrong!
My favourite part of the book are the ads/clues left for Nearly to solve. They all have something to do with science, which is Nearly's strong suit. Usually at first glance, they make absolutely
no sense.
Until Nearly figures it out... but not right away.
Here's the ad that started it all.
Newton was wrong. We clash with yellow. Find me tonight under the bleachers.
And here's my favourite.
Some cats don't dance. Respite in a box, a toxic paradise. Dead or alive when you find him?
Though sometimes, I must say that Nearly disappointed me. She was one of the last people to figure out who the killer was, and she also had help from Reece. A lot of help. Nearly is meant to be the clever, problem-solving girl, but she's one of the last people to see the pattern in the killings.
Overall, this is a very good mystery book and I would definitely recommend it for those who enjoy this genre. There's a sequel, called Nearly Found. I don't know when I'll get round to reading it, but I sure will!
"Once a bad element, always a bad element."