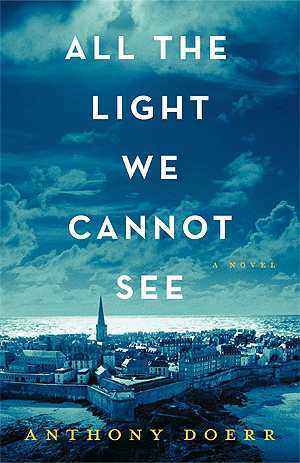 Title: All the Light We Cannot See

Editor: Anthony Doerr
First
Published: May 6th 2014

Series: Stand alone

Genre: Historical Fiction, World War II

Available As: Hardcover, paperback, ebook

Pages: 530

My Copy: Physical Copy

My Overall Rating: 8/10
WINNER OF THE PULITZER PRIZE
From the highly acclaimed, multiple award-winning Anthony Doerr, the beautiful, stunningly ambitious instant New York Times bestseller about a blind French girl and a German boy whose paths collide in occupied France as both try to survive the devastation of World War II.

Marie-Laure lives with her father in Paris near the Museum of Natural History, where he works as the master of its thousands of locks. When she is six, Marie-Laure goes blind and her father builds a perfect miniature of their neighborhood so she can memorize it by touch and navigate her way home. When she is twelve, the Nazis occupy Paris and father and daughter flee to the walled citadel of Saint-Malo, where Marie-Laure's reclusive great-uncle lives in a tall house by the sea. With them they carry what might be the museum's most valuable and dangerous jewel.

In a mining town in Germany, the orphan Werner grows up with his younger sister, enchanted by a crude radio they find. Werner becomes an expert at building and fixing these crucial new instruments, a talent that wins him a place at a brutal academy for Hitler Youth, then a special assignment to track the resistance. More and more aware of the human cost of his intelligence, Werner travels through the heart of the war and, finally, into Saint-Malo, where his story and Marie-Laure's converge.

Doerr's "stunning sense of physical detail and gorgeous metaphors" (San Francisco Chronicle) are dazzling. Deftly interweaving the lives of Marie-Laure and Werner, he illuminates the ways, against all odds, people try to be good to one another. Ten years in the writing, a National Book Award finalist, All the Light We Cannot See is a magnificent, deeply moving novel from a writer "whose sentences never fail to thrill" (Los Angeles Times).


I am stunned. This book was beautifully written. My favourite part was the descriptions, all delicately written. Doerr's writing is really pleasing to read!
This book follows the story of two people: Marie-Laure and Werner, one French and the other German, basically on opposing sides of the war. The story begins with Marie-Laure and her ordinary life in Paris, until her world is flung upside down when the Germans invade and her father is taken away. Her story is a difficult one, where she is left alone at a young age, with only family friends to take care of her. Nevertheless, she never loses hope in humanity, which I think is the beautiful part.
Then there is Werner, a boy older than Marie-Laure. He is an orphan, with his sister Jutta as his only relative. A boy who is particularly talented in physics and mechanics, we follow his story, beginning in the orphanage towards the end. Personally, I enjoyed reading Werner's chapters slightly more. He starts off innocent and seeing the best in everyone he meets, but life really wears him down, especially when he joins the Hitler Youths.
Marie-Laure and Werner really only cross paths once. There meeting seems insignificant, but I think that is the highlight of the whole book. Two people on different sides, different beliefs, but they end up helping each other. In the world they live in, it must be very difficult to do that.
Then comes the heart-breaking moment.
*Spoiler alert*
When the Germans are defeated and captured, Werner is on the brink of death. He's sick and slightly delirious, walking into a mine which explodes around him. I wonder if he really was delirious, or if he knew what he was doing. Maybe he was just tired of it all. Either way, it was depressing.
*Spoiler over*
This was a really good book, but it had to be taken slowly in order to absorb all the words and meanings. I loved the style, and I found myself searching more words up in the dictionary than usual :P But all in all, a great book!
"Open your eyes and see what you can with them before they close forever."