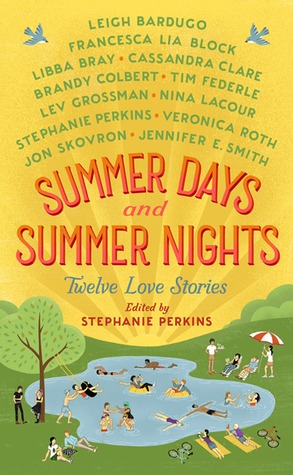 Title: Summer Days & Summer Nights

Editor: Stephanie Perkins
First
Published: May 17th 2016

Series: Stand alone

Genre: YA, Romance

Available As: Hardcover, paperback, ebook

Pages: 400

My Copy: Physical copy

My Overall Rating: 8.25/10
Maybe it's the long, lazy days, or maybe it's the heat making everyone a little bit crazy. Whatever the reason, summer is the perfect time for love to bloom. Summer Days & Summer Nights: Twelve Love Stories, written by twelve bestselling young adult writers and edited by the international bestselling author Stephanie Perkins, will have you dreaming of sunset strolls by the lake. So set out your beach chair and grab your sunglasses. You have twelve reasons this summer to soak up the sun and fall in love.

Featuring stories by Leigh Bardugo, Francesca Lia Block, Libba Bray, Cassandra Clare, Brandy Colbert, Tim Federle, Lev Grossman, Nina LaCour, Stephanie Perkins, Veronica Roth, Jon Skovron, and Jennifer E. Smith.


Since it is an anthology, I decided to split up each story with its own little review!
1. Head, Scales, Tongue, Tail by Leigh Bardugo - 8/10
I was so excited when I read Leigh Bardugo's name. I love the Grisha trilogy and Six of Crows, so evidently I had high hopes for this short story. For the first 2 paragraphs, I thought it was going to be a contemporary romance story, so the style didn't really fit, but no worries! There is a turn of events and the fantastical part of the story comes out. It was good, but I felt that there was a lot of it that could be classified as "irrelevant". But the ending was my favourite part! ;)
2. The End of Love by Nina Labour - 8/10
The second story and we're already diving into the folds of LGBTQ territory. The relationship between Mimi and Flora is quite cute, starting off small then slowly descending into a deeper love between them. The chemistry was really good so I really enjoyed this fluffy one!
3. Last Stand At The Cinegore by Libba Bray - 7/10
This was a weird one, definitely. It was horror mixed with fantasy mixed with sci-fi, so my head was spinning around! It's quite humorous, but it wasn't really my style.
4. Sick Pleasure by Francesca Lia Perkins - 9/10
I really liked this one! I think it would be the most different one out of all twelve stories in this anthology because the ending was completely different. I don't want to give it away, but I think this is one of the most realistic ones out there.
5. In Ninety Minutes, Turn North by Stephanie Perkins - 8.5/10
This was really cute! North was so sassy and just a great character in general. It's a slow burn because of their history, but the ending was basically a cuteness overload.
6. Souvenirs by Tim Federle - 9/10
This is one of my favourites ones - also one that jumps into LGBTQ territory. It's a really cute and angsty story, mostly because right from the beginning, you know it can't really work after the summer. So, it's a summer fling story. Sad I know :(
7. Inertia by Veronica Roth - 8/10
This took on a sci-fi twist, like most of Roth's stories. I really liked the idea behind it, where a dying person can request to relive memories with anyone of their choice. The angst was high on this one as well, but I am glad to assure you, there is a happy ending.
8. Love Is The Last Resort by Jon Skovron - 7/10
Another one that wasn't really interesting in my opinion, mostly because of the excess characters that really didn't need to play a role in the story at all.
9. Good Luck and Farewell by Brandy Colbert - 7.5/10
Not much to say about this one (because I barely remember it!) but it was pretty good (I think)
10. Brand New Attraction by Cassandra Clare - 8.5/10
Another one with fantastical elements in it! Clare rocks the Fantasy genre. Anyways, I liked this one as well because of the intriguing plot as well as the spun in romance story. There was action, there was love. Good enough for me!
11. A Thousand Ways This Could All Go Wrong by Jennifer E. Smith - 9/10
This was a really good story as well! Also, it was the only one with summer camp in it as well. I love the way Griffin and Noah became friends, leaving Annie a clueless (slightly jealous) girl on the side. Pretty funny, but it also does have some more serious topics in it, such as autism and Asperger's.
12. The Map of Tiny Perfect Things by Lev Grossman - 9.5/10
My highest rated one! This was really cool! The plot was detailed and developed + the characters interesting + the romance building = epic story. Basically, our protagonist wakes up to the same day every day, kind of like Groundhog Day. Then he meets Margaret, who might know more about this then she's letting on... ;)
All in all, I really enjoyed this anthology and I really hope that Perkins decides to gather more short stories like this! Maybe even an autumn and spring version? Let's hope! :)