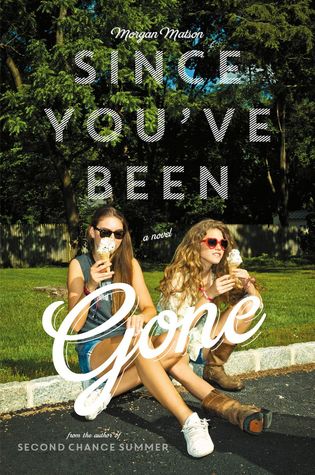 Title: Since You've Been Gone

Author: Morgan Matson
First
Published: May 6th, 2014

Series: Stand Alone

Genre: YA, Contemporary

Available As: Hardcover, paperback, ebook

Pages: 449

My Copy: Physical Copy

My Overall Rating: 8/10
It was Sloane who yanked Emily out of her shell and made life 100% interesting. But right before what should have been the most epic summer, Sloane just…disappears. All she leaves behind is a to-do list.

On it, thirteen Sloane-inspired tasks that Emily would normally never try. But what if they could bring her best friend back?

Apple picking at night? Okay, easy enough.

Dance until dawn? Sure. Why not?

Kiss a stranger? Um...

Emily now has this unexpected summer, and the help of Frank Porter (totally unexpected), to check things off Sloane's list. Who knows what she'll find?

Go skinny-dipping? Wait...what?


This is the perfect summer read! Although I don't read that much contemporary, I adored every page of this book! Emily is an introvert - awkward and shy. Her rock and best friend Sloane disappears with no trace, leaving Emily behind with a list of things to do. I really liked the list and seeing how this brought Emily out of her shell. She begins the book as being the shy, awkward girl, then ends it being confident and cheerful. The list isn't just a list, but it really did help change her life.
Emily begins as a shy, awkward wallflower, but slowly turns into someone with more confidence and extroverted. Most of the things on the list in something Emily 1.0 would
never
do, but because she felt like she owed Sloane something, she forced herself to do them all, which lead to her meeting new friends, trying new things, and basically having a great summer.
I also really liked how the list began as a secret, but then Emily enlists the help of Frank and her new found friends, eventually it turns into a mutual group project. All her friends are so supportive, especially Dawn and Frank! Even Collins - who I thought was a jerk at first - turned out to be helpful, participating a lot to help Emily finish her list.
This book's main focus is friendship, not romance. Sure, Emily meets Frank and they become good friends right away, (later developing into something else), but Emily's main focus is completing her list and figuring out what happened to her best friend. I really like books like this, where friendship is the main theme of the plot.
For me, Sloane was a terrible friend, even if I understand her reasons. She didn't even bother to leave a message, which made Emily panic and run around in circles. It would have been nice if she at least told Emily something instead of dropping off the face of earth. I understand that she's afraid of saying goodbye, but isn't it better to have closure than leaving someone hanging for the rest of their lives, wondering what happened? Emily does forgive Sloane in the end, which was really mature of her. Also another reason why I don't like Sloane that much is because she was so quick to ditch her best friend for Sam, her boyfriend. Like that time when they planned to watch a movie together, only for Emily to end up sitting alone because Sam and Sloane wanted "alone" time. Sloane is really quick to leave people behind, which I found annoying about her.
All in all, I thought this was a really good summer read - the type of book you'd read while sipping something ice cold (with ice cubes) :) Although summer is basically over, I recommend it to everyone who wants a cute and easy summer book!
"Real friends are the ones you can count on no matter what. The ones who go into the forest to find you and bring you home. And real friends never have to tell you that they're your friends."