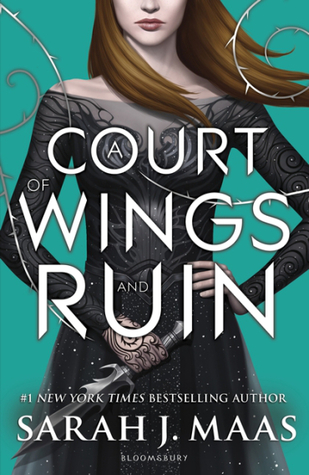 Title: A Court of Wings and Ruin

Author: Sarah J. Maas
First
Published: May 2nd 2017

Series: A Court of Thorns and Roses #3

Genre: YA, Fantasy, Romance

Available As: Hardcover, paperback, ebook
Pages: 699

My Copy: Ebook

My Overall Rating: 8.5/10
Looming war threatens all Feyre holds dear in the third volume of the #1 New York Times bestselling A Court of Thorns and Roses series.

Feyre has returned to the Spring Court, determined to gather information on Tamlin's manoeuvrings and the invading king threatening to bring Prythian to its knees. But to do so she must play a deadly game of deceit – and one slip may spell doom not only for Feyre, but for her world as well.

As war bears down upon them all, Feyre must decide who to trust amongst the dazzling and lethal High Lords – and hunt for allies in unexpected places.

In this thrilling third book in the #1 New York Times bestselling series from Sarah J. Maas, the earth will be painted red as mighty armies grapple for power over the one thing that could destroy them all.
I was so excited to pick up this book and begin to read it. I had waited so long for it and I was so certain it would be amazing (like the previous ACOMAF).
Before I begin, please do
not
read the spoilers if you haven't read the book! They will spoil everything.
Unfortunately, the first couple of chapters disappointed me. The pace was awkward, with Feyre's revenge seeming too quickly accomplished and poorly thought out (although it works out fine). I really liked the reunion between Feyre and her sisters, although it was difficult to like both Nesta and Elain at first. Nesta grew on me. In the beginning, she seemed very selfish, narrow-minded and unforgiving, but as the book progressed, I found myself liking her character more and more. She is such a badass,
*spoiler alert*
especially when she teams up with Elain and kills the King of Hybern!
*spoiler over*
Nesta is the coldest character in the whole series, but I still really appreciate her. At first, I could not see her with Cassian, but as the plot thickens, you can kind of tell that she cares for Cassian. Maybe it is the bond influencing this? They don't seem like the likely couple, but they have potential!
The war has finally began and I started the book knowing someone would not make it out alive. I was (kind of) right? It was pretty much unexpected,
*spoiler alert*
like when Rhysand died and Feyre urged the other High Lords to save him. He survived! Yay! I was so upset when I read that paragraph when he died. I guess Sarah J. Maas didn't want us all to either 1. die from heartbreak (literally) or 2. storm to her house and kill her
*spoiler over*
The final battle was exhilarating to read and I could not put the book down. I devoured the last couple of chapters. Battle scenes are always so much more fun.
I loved that Maas included much more characters - no one played a minor role. I really liked how the Bone Carver was more prominent in this book. He is one of my favourites!
*spoiler alert*
I was quite upset when he died :( because I wanted him to have more page time. Oh well...
*spoiler over*
I think Maas does a good job of making his rethink our feelings towards Tamlin in this one. My feelings towards him has changed so much. I loved him in ACOTAR, despised him in ACOMAF and finally in ACOWAR, I have mixed feelings about him. You think that he's predicable and all, but his actions were surprising. I feel pity that he hasn't gotten a happy ending (as of yet) and that he has lost his most of his friends and followers. That
doesn't
excuse his cruel and abusive treatment of Feyre in ACOMAF, but I feel kind of bad for him, because he does try to the the right thing in the end. The relationship between Tamlin and Feyre is strained and cold at best, but I think they can be reluctant allies in the future.
The diversity in this book is improving! There are many reveals of characters' sexuality and more representation.
*spoiler alert*
I like how they revealed that Mor is actually a lesbian and I really wish to see her in a happy relationship - maybe in the companion novels? But poor Azriel!
*spoiler over*
I really like his series, but I'm not sure that I would continue to read the other books to be released in this series, because I think ending it here is good enough. I'm scared of another Throne of Glass problem, where the interest just goes downhill after book 3 or so. When the next ones come out, I'll make my decision based on all the reviews I read, haha :)
"Only you can decide what breaks you, Cursebreaker. Only you."