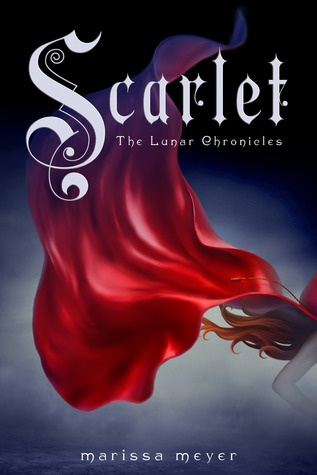 Title: Scarlet

Author: Marissa Meyer

First Published: February 5th 2013

Series: The Lunar Chronicles #2

Genre: YA, Fantasy, Sci-Fi

Available As: Hardcover, paperback, ebook
Pages: 464

My Rating: 9/10
Goodreads Summary:
Cinder, the cyborg mechanic, returns in the second thrilling installment of the bestselling Lunar Chronicles. She's trying to break out of prison--even though if she succeeds, she'll be the Commonwealth's most wanted fugitive.

Halfway around the world, Scarlet Benoit's grandmother is missing. It turns out there are many things Scarlet doesn't know about her grandmother or the grave danger she has lived in her whole life. When Scarlet encounters Wolf, a street fighter who may have information as to her grandmother's whereabouts, she is loath to trust this stranger, but is inexplicably drawn to him, and he to her. As Scarlet and Wolf unravel one mystery, they encounter another when they meet Cinder. Now, all of them must stay one step ahead of the vicious Lunar Queen Levana, who will do anything for the handsome Prince Kai to become her husband, her king, her prisoner.
The thrilling sequel to
Cinder
! Based on Little Red Riding Hood, following Scarlet's story. Living in France, Scarlet's missing grandmother seems to be a piece of the puzzle. Not before long, the two girls are thrown into the chaos. With Queen Levana hot on Cinder's heels, she must learn to trust her allies and her instincts.
I can't believe how different but similar Cinder and Scarlet are. Cinder is our calm, level-headed cyborg. A.K.A Princess Selene. But nobody needs to know that yet... Scarlet is different. She's more fiery and acts on her instincts, no matter what everyone else tells her. But their similarities are also present. Both are strong characters - willing to sacrifice themselves for the greater good. The alternating chapters from Cinder and Scarlet really show us in depth what is going on and the events that link both girls together.
Cinder is definitely not the same girl she was at the start of
Cinder
. She's no longer the mechanic girl, the person nobody knows. Now? She's a fugitive, running from all forces. This has changed her ultimately. She's still struggling with her Lunar abilities, and she's also afraid to use them on people. Reading about her fears of becoming like Levana, it really tells us much about Cinder. Is she using her powers for the greater good? Or will it makes things worse? I wonder if she will eventually embrace her Lunar side. For her personality, she has a cold demeanour to her, probably because of all the deaths and dangers she faced.
Introducing a new ship! Wolf and Scarlet have come to town. I love their chemistry and how Wolf is willing to sacrifice himself to save Scarlet. Those two make a really good team. I really hope Cinder and Kai are reunited, but I don't know if their relationship can be repaired. Kai certainly thinks Cinder betrayed him and that everything he felt for her was a lie...
I really like how Marissa Meyer chooses different countries around the world and incorporates them into the books. Like how Cinder is from New Beijing and Scarlet is from a small town in France. Two completely different countries, two completely different settings. It's fun to read about!
Scarlet
is a great book to read, but I preferred
Cinder
better. I wonder if the following books of the series will be good. I sincerely think so!
My Chosen Quote:
"I think I realized that I would rather die because I betrayed them, than live because I betrayed you."