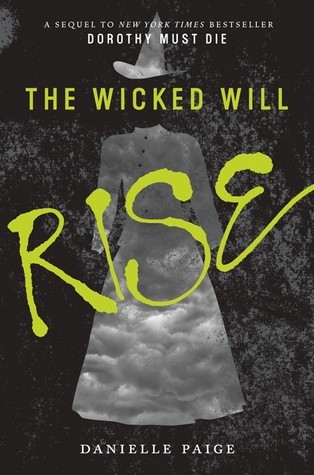 Title: The Wicked Will Rise

Author: Danielle Paige

First Published: March 31st 2015
Series: Dorothy Must Die #2

Genre: YA, Fantasy

Available As: Hardcover, paperback, ebook

My Rating: 9/10
Goodreads Summary:
In this dark, high-octane sequel to the New York Times bestselling Dorothy Must Die, Amy Gumm must do everything in her power to kill Dorothy and free Oz.

To make Oz a free land again, Amy Gumm was given a mission: remove the Tin Woodman's heart, steal the Scarecrow's brain, take the Lion's courage, and then Dorothy must die...

But Dorothy still lives. Now the Revolutionary Order of the Wicked has vanished, and mysterious Princess Ozma might be Amy's only ally. As Amy learns the truth about her mission, she realizes that she's only just scratched the surface of Oz's past—and that Kansas, the home she couldn't wait to leave behind, may also be in danger. In a place where the line between good and evil shifts with just a strong gust of wind, who can Amy trust—and who is really Wicked?
I can't believe I
just
found out about this book! It came out in March and I buy it in September? I'm ashamed of myself.
This book was a great read. It fulfilled my expectations as a sequel to
Dorothy Must Die.
Completely worth the read. I saw other novellas by Danielle Paige, but I didn't bother to read them. Now, this book has rekindled my interest for this series and I hope to read the novellas soon!
Following the events of the first book, Amy has to find a way out of the mess called Oz and kill Dorothy. Along the way, she learns more about herself - and how far she's willing to go. The more Amy plays with her dark magic, the more she dwells into the wickedness of it all. As I was reading this book, I couldn't help but compare her with Adelina from
The Young Elites.
Both are strolling down a dark path that is near impossible to get away from. At the end of the book, we really see Amy in a new light as she joins the Order of the Wicked once and for all. Do you think she's the same person she was at the start of the first book? I don't think so.
Will there be another book? I hope so. I would like to see Amy's new life as a dark witch and what the Wizard wants with Kansas. What will become of Dorothy? I doubt she'll ever see the errors of her ways and change. She has become too dependent and greedy of the magic she had in Oz, and of course, magic would make anyone greedy.
Waiting (impatiently) for the next book to arrive!
My Chosen Quote:
"You can't just cover your eyes and pretend like terrible things aren't happening simply because you can't see them."