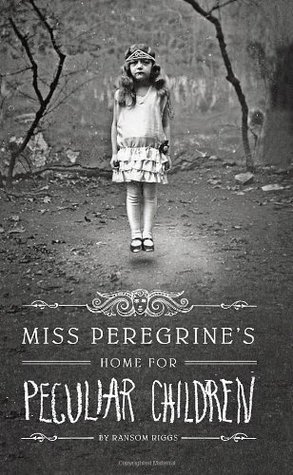 Title: Miss Peregrine's Home for Peculiar Children

Author: Ransom Riggs
First Published: June 7th 2011
Series: Miss Peregrine's Peculiar Children #1
Genre: YA, Fantasy, Historical Fiction

Available As: Hardcover, paperback, ebook
Pages: 352

My Rating: 9/10
Goodreads Summary:
A mysterious island. An abandoned orphanage. A strange collection of curious photographs.

A horrific family tragedy sets sixteen-year-old Jacob journeying to a remote island off the coast of Wales, where he discovers the crumbling ruins of Miss Peregrine's Home for Peculiar Children. As Jacob explores its abandoned bedrooms and hallways, it becomes clear that the children were more than just peculiar. They may have been dangerous. They may have been quarantined on a deserted island for good reason. And somehow—impossible though it seems—they may still be alive.

A spine-tingling fantasy illustrated with haunting vintage photography, Miss Peregrine's Home for Peculiar Children will delight adults, teens, and anyone who relishes an adventure in the shadows.
How often is it that you see a cover with a girl levitating? At first, when you walk pass the book, you might not notice it, but do a double take, and there it is!
The main reason why I picked this book up in the first place was because it had such a haunting cover. It's like the girl is hiding many dark secrets. So many questions flew through my brain. What is this book about? Peculiar children, how so? Then I flicked through the pages and the photos inside and they intrigued me. I love these kinds of books! So yes, I chose this book because of the cover...
Jacob is our leading protagonist in this book. From the beginning, we pity poor Jacob - his grandfather died in front of him, he's constantly plagued by nightmares and anxiety following his grandfather's death, but most of all? The mystery behind it. All those photos keep coming up and it's up to Jacob to solve the mystery. Who knew he would find so much more than he signed up for.
The story was amazing. I was sucked in from the very first page and I followed Jacob's journey from the past to the present then back to the past. All the peculiar children were so interesting! They have special abilities, but it's more realistic than ever. There's no 'turning it on or off' - the abilities are there forever. I guess having these kind of abilities will really come in handy, especially when up against the wights. What
do
they really want?
I highly recommend this book for those who like darker, creepier stories. I loved reading it and it's the kind of book that gets better the more you read it. I'm off to find
Hollow City
right now!
My Chosen Quote:
"I used to dream about escaping my ordinary life, but my life was never ordinary. I had simply failed to notice how extraordinary it was."