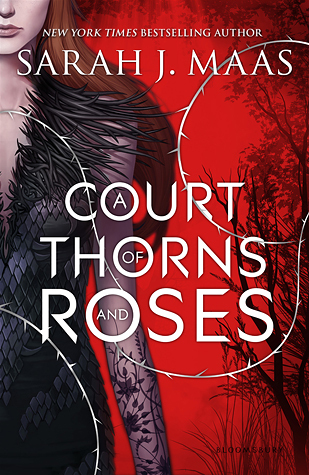 Title: A Court of Thorns and Roses

Author: Sarah J. Maas

First Published: 5th May 2015

Series: A Court of Thorns and Roses #1

Genre: YA, Fantasy, Romance

Available As: Hardcover, paperback, ebook

Pages: 416

My Copy: Ebook

My Rating: 9/10
Goodreads Summary:
A thrilling, seductive new series from New York Times bestselling author Sarah J. Maas, blending Beauty and the Beast with faerie lore.

When nineteen-year-old huntress Feyre kills a wolf in the woods, a beast-like creature arrives to demand retribution for it. Dragged to a treacherous magical land she only knows about from legends, Feyre discovers that her captor is not an animal, but Tamlin—one of the lethal, immortal faeries who once ruled their world.

As she dwells on his estate, her feelings for Tamlin transform from icy hostility into a fiery passion that burns through every lie and warning she's been told about the beautiful, dangerous world of the Fae. But an ancient, wicked shadow grows over the faerie lands, and Feyre must find a way to stop it... or doom Tamlin—and his world—forever.

Perfect for fans of Kristin Cashore and George R. R. Martin, this first book in a sexy and action-packed new series is impossible to put down!

Honestly, I regret pushing this book so far back my TBR. Now, I see that this book is so good! The world building, the characters, the plot...
Feyre is a strong protagonist. She single-handedly took down a grown fae, although now we know why Andras did nothing to stop her. She's a human, weak and insignificant compared to Tamlin, Lucien and the others. I think that she's strong-willed, which is what Tamlin loves the most in her. There are some moments where she's ready to lie down and give up, but in the end, she perseveres. She also sacrificed a lot in order to be with Tamlin. When she was dying in her cell, she struck a deal with Rhysand to heal her. I don't think it was the best idea, but it was the only way she could stay alive.
Which brings me to Rhysand. I thought he was a horrible person at the beginning, but then we slowly see his true side. I think he isn't evil - just pretending to be in order to survive. Plus, what do you think he saw in Feyre at the end of the book which caused him to become scared? I'm sure it will be explored in the next book!
Amarantha is a typical antagonist. She reminds me of Levana from The Lunar Chronicles at times, though I think Amarantha was more evil. She wants control over all the fae, especially Tamlin. Her love for Tamlin is deeply obsessive, since she won't let him go. So, when Feyre shows up to win back Tamlin, it's Amarantha vs. Feyre. I think Amarantha plays dirty, taking advantage of Feyre being a 'lowly' human. Of course, Feyre ends up winning. And solving the riddle as well, the answer of which was highly cliché.
I think the relationship between Tamlin and Feyre was well built. We weren't suddenly dropped into their 'love-at-fist-sight'. It was a slow build and it was definitely worth it! Luckily, there was no love triangle, so I was quite pleased with that.
The trials were pretty tough! The first was fighting the giant worm. Feyre used her skills to trick the worm, although she would have nearly died with Lucien hadn't yelled out where the worm was coming from. With the second trial, she needed Rhysand's help, because she couldn't read the riddle. She only figured out the third trial on her own. So, Feyre needed a lot of help to pass the trials. However, she figured out the Amarantha's riddle on love on her own as well. So, I guess she isn't as hopeless as everyone else thought she was.
My Chosen Quote:
"Pity those who don't feel anything at all."