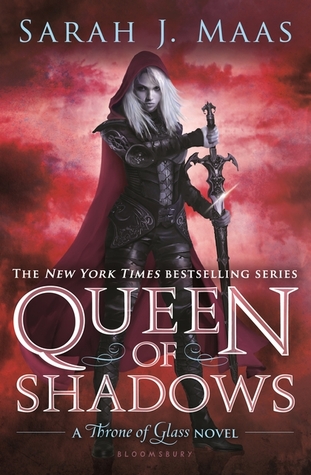 Title: Queen of Shadows

Author: Sarah J. Maas
First Published: September 1st, 2015

Series: Throne of Glass #4

Genre: YA, Fantasy

Available As: Hardcover, paperback, ebook

Pages: 648

My Copy: eBook

My Rating: 8.5/10
The queen has returned.

Everyone Celaena Sardothien loves has been taken from
her. But she's at last returned to the empire—for vengeance, to rescue her once-glorious kingdom, and to confront the shadows of her past…

She has embraced her identity as Aelin Galathynius, Queen of Terrasen. But before she can reclaim her throne, she must fight.

She will fight for her cousin, a warrior prepared to die for her. She will fight for her friend, a young man trapped in an unspeakable prison. And she will fight for her people, enslaved to a brutal king and awaiting their lost queen's triumphant return.

The fourth volume in the New York Times bestselling series continues Celaena's epic journey and builds to a passionate, agonizing crescendo that might just shatter her world.
Woah! This is such a good book,
way
better than Heir of Fire, in my opinion.
Following Celaena (or should I say, Aelin), she continues her quest to bring down the king of Adarlan. I found the transition from Celaena to Aelin kind of strange at first, since the first three books referred to her as Celaena, and suddenly there is a name change. But I got over that pretty quickly. Although - to me - it felt like Celaena is a different person than Aelin. Aelin is more balanced, whereas Celaena has a shorter temper. I guess it's because Aelin has loyal followers, like Aedion and Rowan.
Speaking of Rowan, who else senses a potential relationship here? The original love triangle crashed and burnt out since book 2, but who is to say that Aelin doesn't deserve someone? There was a lot of tension between Rowan and Aelin in
Heir of Fire,
but less in
Queen of Shadows.
Where is my ships?! Especially since I was beginning to ship Dorian and Sorscha, but look how
that
turned out.
Manon plays a larger role in this book. In
Heir of Fire,
we see her as a brutal, ruthless witch who doesn't care about anyone. However, in this book, we start to see that she isn't the monster we think she is. She does have a conscience.
*mild spoiler*
I wasn't sure if I could trust her at all. Only when Manon repaid her life debt to Aelin did I realise that she wasn't all that bad. And at the end, when she went out of her way to save Elide? Manon may be cruel at times, but she isn't that bad a person.
*spoiler over*
So many demons! The king of Adarlan has enslaved the minds of his soldiers and even his son, Dorian. There were some chapters that were told from Dorian's point of view, and we can see that it is very difficult to fight against the Valg Princes. My heart was racing when Aelin finally confronted Demon!Dorian, where it was unclear if he had finally succumbed to the demon's wishes and that Dorian was no more. Luckily for all of us, it was (kind of?) a happy ending.
After all the events in
Queen of Shadows,
I thought it was the end of the series. Shouldn't it be? The last chapter seemed to be a nice place to end, with things happily resolved and everyone was at peace. However, on Goodreads, I saw that there was another book after this! What?! There's more? I don't know what
can
happen, but I don't think it will be good. Poor Aelin. And I thought she was going to get her happily ever after.
"But perhaps the monsters needed to look out for each other every now and then."