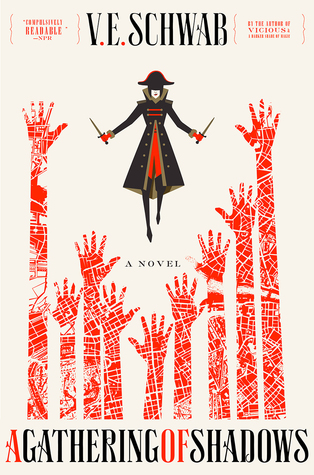 Title: A Gathering of Shadows
Author: V.E Schwab
First
Published: February 23rd 2016

Series: Shades of Magic #2

Genre: YA, Fantasy

Available As: Hardcover, paperback, ebook

Pages: 512

My Copy: eBook

My Rating: 9/10
Four months have passed since the shadow stone fell into Kell's possession. Four months since his path crossed with Delilah Bard. Four months since Rhy was wounded and the Dane twins fell, and the stone was cast with Holland's dying body through the rift, and into Black London.

In many ways, things have almost returned to normal, though Rhy is more sober, and Kell is now plagued by his guilt. Restless, and having given up smuggling, Kell is visited by dreams of ominous magical events, waking only to think of Lila, who disappeared from the docks like she always meant to do. As Red London finalizes preparations for the Element Games—an extravagant international competition of magic, meant to entertain and keep healthy the ties between neighboring countries—a certain pirate ship draws closer, carrying old friends back into port.

But while Red London is caught up in the pageantry and thrills of the Games, another London is coming back to life, and those who were thought to be forever gone have returned. After all, a shadow that was gone in the night reappears in the morning, and so it seems Black London has risen again—meaning that another London must fall.
This is an amazing sequel to A Darker Shade of Magic! I was sucked in from the very first sentence and I couldn't stop reading!
Also, before I begin, I'm sorry for the spoilers that keep popping up! But I've got to tell someone.
Kell and Rhy are both feeling the effects of the bond. Especially Kell. He's restless, always wanting to use his magic and fight something. So I guess it was a good idea for him to enter the Element Games. In this book, we really sympathise will Kell, since after the events of the first book, he is basically estranged from the royal family - except Rhy. He's blamed for all the things that happened and the king no longer trusts Kell. He even goes to arrest him at one point in the book. All these things just makes Kell lose faith in the Arnesian royal family, and he just wants out. But who can blame him?
Who would've thought it?
*Spoiler alert*
Rhy and Alucard! I thought it would be Lila and Alucard, but Lila still has feelings for Kell and vice versa ;) Anways, I would love to read more about Rhy and Alucard's past, and what exactly happened between them. I'm already beginning to ship them!
*Spoiler over*
Also, Kell and Lila! They're both so stubborn, refusing to make the first move. The tension is strong between them. It's also like a love-hate relationship, with Lila trying to infuriate Kell as much as she can, and Kell trying not to strangle her for doing so. But I think the two of them make a good team, even if there was no teamwork in this book. I'm sure there will be more of them in the next book though!
The plot thickens when we meet Osaron, the dark being that caused the downfall of Black London. He's leaching his way to White London, then Red London. There
will
be a war in the next book, I'm sure. It was smart of him to
*Spoiler alert*
possess Holland's body and lure Kell to White London. With the two Antari out of the way, he can do anything.
*Spoiler over*
So many things can happen in the next book! What will become of Kell?
*Spoiler alert*
Especially with that collar of his. Will restricting his magic cause him to lose his connection with it? We already know that it causes him a lot of pain.
*Spoiler over*
Will Lila make it in time? What will happen to Rhy? And Red London? And White London?
I cannot wait for the next book! It'll be a long wait, but I'm sure it will be worth it!
"Too little of something is just as dangerous as too much."