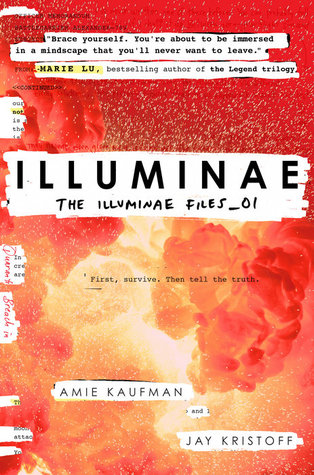 Title: Illuminae

Author: Amie Kaufman and Jay Kristoff
First
Published: October 20th, 2015

Series: The Illuminae Files #1

Genre: YA, Science Fiction

Available As: Hardcover, paperback, ebook

Pages: 599

My Copy: Physical Copy

My Overall Rating: 8.5/10
This morning, Kady thought breaking up with Ezra was the hardest thing she'd have to do.
This afternoon, her planet was invaded.
The year is 2575, and two rival megacorporations are at war over a planet that's little more than an ice-covered speck at the edge of the universe. Too bad nobody thought to warn the people living on it. With enemy fire raining down on them, Kady and Ezra—who are barely even talking to each other—are forced to fight their way onto an evacuating fleet, with an enemy warship in hot pursuit.
But their problems are just getting started. A deadly plague has broken out and is mutating, with terrifying results; the fleet's AI, which should be protecting them, may actually be their enemy; and nobody in charge will say what's really going on. As Kady hacks into a tangled web of data to find the truth, it's clear only one person can help her bring it all to light: the ex-boyfriend she swore she'd never speak to again.
Told through a fascinating dossier of hacked documents—including emails, schematics, military files, IMs, medical reports, interviews, and more—Illuminae is the first book in a heart-stopping, high-octane trilogy about lives interrupted, the price of truth, and the courage of everyday heroes.
This book was pure gold. I have never read such an uniquely written book in my life! The format is really cool, in the form of emails, surveillance files, IMs, etc. and I thought it made the book a really fun read. There is barely any descriptive passages in this book, save the surveillance files. The rest are conversations or thoughts.
Kady is our main protagonist, who is particularly skilled in computers and hacking. I really like her because she's fearless and determined, stopping at nothing until she unravels the secrets behind Alexander and Hypatia, as well as BeiTech's motives. Her and Byron on make a good team, their relationship starting as reluctant allies then evolving onto friends. Kady is also really sarcastic and sassy, which is great! Her messages are so funny to read, filled with wit and humour. But deep down, it's just another way to cover up how scared and helpless she's feeling.
Ezra is another protagonist, but he isn't as important a character as Kady. He was her boyfriend before all this started, but over the course of the book, they repair their relationship and fall back into love (not that they were ever out of it!) However, this isn't classified as a romance story because their relationship isn't quite so important - yes, there are really sweet moments between the two of them, but it isn't the main point. Right, except for the part when Kady risks her life to cross to Alexander to save Ezra, only to
*spoiler alert*
find out that he was dead, and had been dead for a while. Well, that's what AIDAN tells her anyways. (Psst, he's fine actually)
*spoiler over*
Who is my favourite character in this book? By far, it is AIDAN, the artificial intelligence behind this all. Although it is only a computer, who's to say it doesn't have feelings? Well, it does have programmed feelings, but when reading its files, it feels so human that you forget that it's just a computer. What I really liked was how Kady worked together with AIDAN at the end of the book to stop the Lincoln and the infected, even if it meant dying a slow death together in space. I really enjoyed reading AIDAN's files, because he has such a peculiar way in talking/speaking, especially when describing war scenes. The looping sentences and pretty backgrounds was really nice to read :)
Who got emotional at the end? I did! When death seemed imminent for both Kady and AIDAN, I was so sad that my two favoured characters were going to die. Luckily, there's hope ;)
So, the Illuminae Group. It was obvious from the beginning who was going to be part of this group, right? I can't wait to see how they're going to create BeiTech's downfall, and in detail! Who would've thought that
*spoiler alert*
Ezra's mother is the leader of BeiTech? OOOOH! How far will she go to get Ezra back?
*spoiler over*
I can't wait for the next book!
"Perhaps bravery is simply the face humanity wraps around its collective madness."