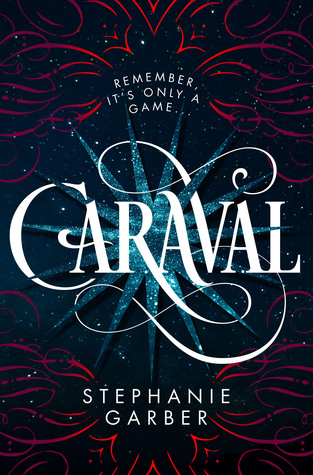 Title: Caraval

Author: Stephanie Garber
First
Published: January 31st 2017

Series: Caraval #1

Genre: YA, Fantasy

Available As: Hardcover, paperback, ebook
Pages: 407

My Copy: Physical copy

My Overall Rating: 9/10
Scarlett Dragna has never left the tiny island where she and her sister, Tella, live with their powerful, and cruel, father. Now Scarlett's father has arranged a marriage for her, and Scarlett thinks her dreams of seeing Caraval—the faraway, once-a-year performance where the audience participates in the show—are over.

But this year, Scarlett's long-dreamt-of invitation finally arrives. With the help of a mysterious sailor, Tella whisks Scarlett away to the show. Only, as soon as they arrive, Tella is kidnapped by Caraval's mastermind organizer, Legend. It turns out that this season's Caraval revolves around Tella, and whoever finds her first is the winner.

Scarlett has been told that everything that happens during Caraval is only an elaborate performance. Nevertheless she becomes enmeshed in a game of love, heartbreak, and magic. And whether Caraval is real or not, Scarlett must find Tella before the five nights of the game are over or a dangerous domino effect of consequences will be set off, and her beloved sister will disappear forever.

Welcome, welcome to Caraval… beware of getting swept too far away.

I'll try to keep the spoilers to the minimum, so please excuse the fairly short review. I can't say much in fear of spoiling the entire book!

I adore this book so much! I've always loved fantasy, but mixing in mystery with it just makes the plot even better!

Caraval is mind-blowing. It has all the elements of a nice fantasy novel, but the mystery is woven in with the plot so well. There were times in the book where I had no clue what was going on. I can't even count the amount of plot twists in this book, each one making the plot so much more intriguing and addictive. It's only a game, we are reminded throughout the book, but how much of it is real? I love how the lines between make-believe and reality are blurred beyond measure.

My favourite character is Tella, although her being a recurring character in the book, she was unpredictable - unlike Scarlett. I thought Scarlett was not too different from an average YA protagonist: feisty, protective of family, etc. etc. but that didn't matter too much. Tella however, showed her manipulative character at times and also sly intelligence. Julian was more complex, mainly because of all the secrets surrounding him, but I do like him as a character. I hope to find out more about his past and relationships.

And finally, Legend. I don't really know what to say about him since we don't actually know that much about him, but for now, let's say he's an terrible person. However, I do want to know more about his backstory. I'm sure we will see more of him in the sequel...

Do I ship Julian and Scarlett? I think that their relationship is complicated, especially since it was built on lies and deceit, but they do have the potential to be a cute couple. Despite the fact that I don't like hastily done romances for the sake of romance in YA novels, I think Caraval wouldn't have worked without their love for each other. Well, actually, their love is still at the early baby stages, but there's always room for development, right?

I can't wait to read the next book! The cliffhanger at the end?! ARGH so many mysteries are still left unresolved! I hope that the next book is equally as intriguing as this one.


"Every person has the power to change their fate if they are brave enough to fight for what they desire more than anything."