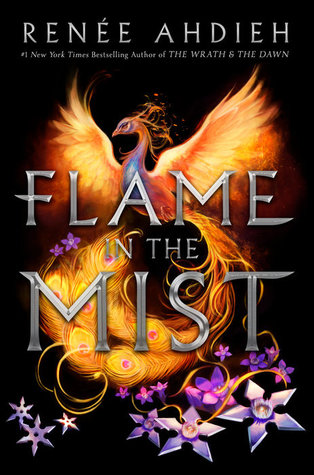 Title: Flame in the Mist

Author: Renée Ahdieh
First
Published: May 16th 2017

Series: Flame in the Mist #1

Genre: YA, Fantasy

Available As: Hardcover, paperback, ebook
Pages: 393

My Copy: Physical copy

My Overall Rating: 9/10
The only daughter of a prominent samurai, Mariko has always known she'd been raised for one purpose and one purpose only: to marry. Never mind her cunning, which rivals that of her twin brother, Kenshin, or her skills as an accomplished alchemist. Since Mariko was not born a boy, her fate was sealed the moment she drew her first breath.

So, at just seventeen years old, Mariko is sent to the imperial palace to meet her betrothed, a man she did not choose, for the very first time. But the journey is cut short when Mariko's convoy is viciously attacked by the Black Clan, a dangerous group of bandits who've been hired to kill Mariko before she reaches the palace.

The lone survivor, Mariko narrowly escapes to the woods, where she plots her revenge. Dressed as a peasant boy, she sets out to infiltrate the Black Clan and hunt down those responsible for the target on her back. Once she's within their ranks, though, Mariko finds for the first time she's appreciated for her intellect and abilities. She even finds herself falling in love—a love that will force her to question everything she's ever known about her family, her purpose, and her deepest desires.


When I read the blurb, I wanted the book right away. Sadly, it wasn't released yet. So I waited and waited until it came! Once I saw the cover, I started on the first page right away - no waiting!
Flame in the Mist
is set in a fantasy version of medieval Japan, but is a retelling of Mulan. Of course, I was so excited, since how often do we get Asian fantasy settings? Or Asian characters
at all
? Right from the first page, I was sucked in. Ahdieh's writing flows so well that you just don't want to stop reading. There is a slight mystery in the book where we are told from the beginning that the Black Clan attacked Mariko during her journey, but
*spoiler alert*
subtle hints were dropped that that wasn't the case, for example when Kenshin notes that the deaths of Mariko's company wasn't like the Black Clan. I had my suspicions that it wasn't them, especially since it was never confirmed. Mariko only thought it was them - she jumped to a conclusion. But then, who really attacked Mariko?
*spoiler over*
Mariko is our protagonist. I thought her character was really well written, since she values honour and family above everything. She's really stubborn in her own views that she takes quite a long time to accept the truth even if it is glaring at her in the face. At times, I found myself torn between wanting Mariko to get revenge and wanting her to accept her new friends in the Black Clan. But I liked how in the end,
*spoiler alert*
she decided to stand with her new friends who have her back despite her betrayal, instead of helping her family who are revealed to be cruel and manipulative.
*spoiler over*
I wish we got to read more about Mariko and her relationships with more members of the Black Clan. It would have been nice to see her actually becoming more friendly and forming more bonds with the others. Maybe in the next book?
I really liked Ōkami right from the start. He's the mysterious guy who is also the best fighter in the Black Clan. I would have liked more of the friendship between him and Ranmaru - I think Ahdieh could have added more of that. Obviously he has his secrets, like the epic plot twist where
*spoiler alert*
he turns out to be the real Takeda Ranmaru? AWESOME. Didn't see that one coming.
*spoiler over*
How do I feel about Ōkami and Mariko as a couple? I have mixed feelings, but I think they would make an interesting couple. I think Mariko without a love interest would be more suited for the atmosphere of the book (since Mariko had her mind set on revenge and
only
revenge), but authors
must
put a love interest into the plot, right?
The ending made me want to cry and scream at the same time! I really hope Ōkami and Mariko will be fine, but who knows? What will happen to the rest of the Black Clan? Raiden turned out to be a ruthless prince - why can't royalty be nice? What of the epilogue?! Oooh, shit is about to go down! Sorry, excuse my language ;) but how else can I express it? EEEEK I cannot wait for the next book! So much will happen next!
"I've never been angry to have been born a woman. There have been times I've been angry at how the world treats us, but I see being a woman as a challenge I must fight. Like being born under a stormy sky. Some people are lucky enough to be born on a bright summer's day. Maybe we were born under clouds. No wind. No rain. Just a mountain of clouds we must climb each morning so that we may see the sun."