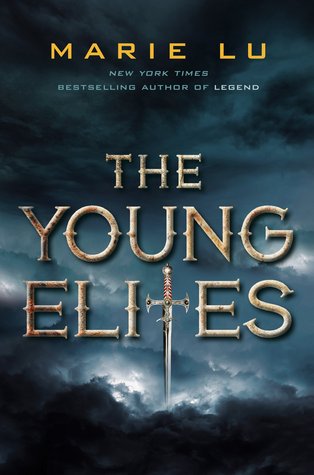 "Everyone has darkness inside
them, however hidden."
Title: The Young Elites

Author: Marie Lu

First Published: 2014

Series: The Young Elites #1

Genre: YA, Fantasy, Sci-Fi

Available As: Hardcover, paperback, ebook

My Rating: 9.5/10
Goodreads Summary:
I am tired of being used, hurt, and cast aside.

Adelina Amouteru is a survivor of the blood fever. A decade ago, the deadly illness swept through her nation. Most of the infected perished, while many of the children who survived were left with strange markings. Adelina's black hair turned silver, her lashes went pale, and now she has only a jagged scar where her left eye once was. Her cruel father believes she is a malfetto, an abomination, ruining their family's good name and standing in the way of their fortune. But some of the fever's survivors are rumored to possess more than just scars—they are believed to have mysterious and powerful gifts, and though their identities remain secret, they have come to be called the Young Elites.

Teren Santoro works for the king. As Leader of the Inquisition Axis, it is his job to seek out the Young Elites, to destroy them before they destroy the nation. He believes the Young Elites to be dangerous and vengeful, but it's Teren who may possess the darkest secret of all.

Enzo Valenciano is a member of the Dagger Society. This secret sect of Young Elites seeks out others like them before the Inquisition Axis can. But when the Daggers find Adelina, they discover someone with powers like they've never seen.

Adelina wants to believe Enzo is on her side, and that Teren is the true enemy. But the lives of these three will collide in unexpected ways, as each fights a very different and personal battle. But of one thing they are all certain: Adelina has abilities that shouldn't belong in this world. A vengeful blackness in her heart. And a desire to destroy all who dare to cross her.

It is my turn to use. My turn to hurt.


One word:
phenomenal.
This book blew me away, like every one of Marie Lu's books. Her writing is fresh and doesn't disappoint, even though she may seem like a typical YA author.
So, let's take a look. There's a girl, Adelina. She's the protagonist of our story, but she is definitely not the most perfect person there is. A
malfetto,
a disgrace to humanity. Being hunted by the Inquisition and forced to spy on the Daggers against her will - this is when we really see Adelina's personality. She will do anything to protect her little sister, Violetta, no matter how much her instincts scream at her for betraying the Daggers. At first, she's desperate to be accepted into the elite community, trying her hardest to please Enzo, and even towards the end, during her last conversation with Raffaele, we can all see she's desperate for acceptance from those similar to her. However, she is also very different from all of them. She's not like our average heroine. She fights against the darkness that has latched to her heart due to her dark past, but at the same time, she embraces it with passion, making her a powerful character.
I'd also like to point out that there is Adelina and two boys, Teren and Enzo. But there is no love triangle here, and I respect that. Not every YA Dystopian book needs romance as its
main
theme. There is some mixed feelings between Adelina and Enzo, but nothing too detailed.
Enzo and Teren aren't all that different either. They're both boys, different but the same. Both have been forced to grow up too fast in a cruel world. However, they both chose different paths. Enzo decided to lead the Young Elites to usurp the king and snatch the throne, whereas Teren decided to lead the Inquisition to destroy all Young Elites and
malfettos,
but at the same time usurp the king and snatch the throne
for the queen.
They have different motives, but the same endgame in mind.
Then there's my absolute favourite character, Raffaele. He's a beautiful boy, second in command to Enzo (most likely). Being a consort, his life in luxurious but depressing. There is a darker past behind Raffaele, and although he seems gentle and understanding most of the time, I think there's something behind the pretty and seductive mask he always puts on. I hope we see more of him in the future books, and how the Dagger's paths will clash with Adelina's once more.
My Chosen Quote:
It is pointless to believe what you see, if you only see what you believe.