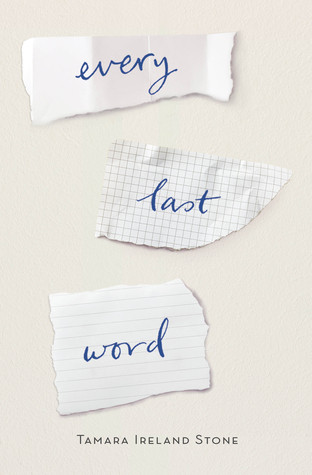 Title: Every Last Word

Author: Tamara Ireland Stone
First Published: June 16th, 2015

Series: Stand Alone

Genre: YA, Contemporary, Romance, Mental Illness

Available As: Hardcover, paperback, ebook

Pages: 368

My Copy: eBook

My Rating: 9/10
If you could read my mind, you wouldn't be smiling.

Samantha McAllister looks just like the rest of the popular girls in her junior class. But hidden beneath the straightened hair and expertly applied makeup is a secret that her friends would never understand: Sam has Purely-Obsessional OCD and is consumed by a stream of dark thoughts and worries that she can't turn off.

Second-guessing every move, thought, and word makes daily life a struggle, and it doesn't help that her lifelong friends will turn toxic at the first sign of a wrong outfit, wrong lunch, or wrong crush. Yet Sam knows she'd be truly crazy to leave the protection of the most popular girls in school. So when Sam meets Caroline, she has to keep her new friend with a refreshing sense of humor and no style a secret, right up there with Sam's weekly visits to her psychiatrist.

Caroline introduces Sam to Poet's Corner, a hidden room and a tight-knit group of misfits who have been ignored by the school at large. Sam is drawn to them immediately, especially a guitar-playing guy with a talent for verse, and starts to discover a whole new side of herself. Slowly, she begins to feel more "normal" than she ever has as part of the popular crowd . . . until she finds a new reason to question her sanity and all she holds dear.
This is an amazing book, dealing with OCD and how it isn't just about obsessing over whether the pencils are straight or not, which is a common misconception. The OCD takes over Sam's life completely, and we can see her struggle to cope with it. Life gets a lot better when Caroline brings Sam to Poet's Corner, where she can write poetry and express herself freely without being judged.
As it is with these kinds of books, there is always a plot twist!
*Spoiler alert*
Who would have known? Caroline is a figment of Sam's imagination. She was never there at all! Well, I guess I should have known, seeing as the plot twist from Made You Up is similar. However, I think this isn't as bad as it seems, since "Caroline" has always been there for Sam, always encouraged her and gave her the words she needed to speak up. Quite nice.
*Spoiler over*
The relationship between Sam and AJ started off painfully slow. He hated her for what she did in 4th Grade, but he got over it when she apologised. It was quite nice, since it wasn't rushed or anything. It builded gradually: from friends to boyfriend/girlfriend. I think AJ is very loyal and supportive of his friends. He's a good match for Sam.
Sam changed a lot throughout the course of the book. She began as a quiet girl in a group of friends who didn't really suit her. True, they've been friends since a young age, but it is plain that Sam doesn't really like them much. Once she joins Poet's Corner and begins writing her poetry, she becomes more brave and develops a voice. Poetry is like an outlet for her thoughts, and I think it really helps her face her fears.
Overall, I really enjoyed this book and I would definitely recommend it for those who like Made You Up!
"Everyone's got something. Some people are just better actors than others."