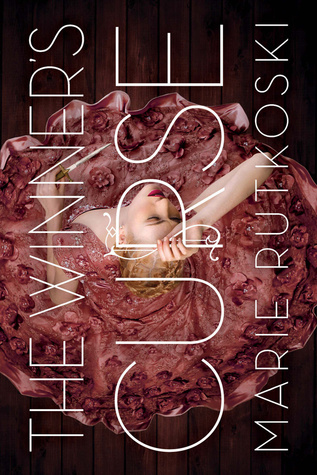 Title: The Winner's Curse

Author: Marie Rutkoski
First Published: March 4th, 2014

Series: The Winner's Trilogy #1

Genre: YA, Fantasy, Sci-Fi, Dystopia

Available As: Hardcover, paperback, ebook

Pages: 355

My Copy: eBook

My Rating: 9/10
Winning what you want may cost you everything you love...

As a general's daughter in a vast empire that revels in war and enslaves those it conquers, seventeen-year-old Kestrel has two choices: she can join the military or get married. But Kestrel has other intentions.

One day, she is startled to find a kindred spirit in a young slave up for auction. Arin's eyes seem to defy everything and everyone. Following her instinct, Kestrel buys him—with unexpected consequences. It's not long before she has to hide her growing love for Arin.

But he, too, has a secret, and Kestrel quickly learns that the price she paid for a fellow human is much higher than she ever could have imagined.

Set in a richly imagined new world, The Winner's Curse by Marie Rutkoski is a story of deadly games where everything is at stake, and the gamble is whether you will keep your head or lose your heart.
This book was great, on all sorts of levels.
You don't get a lot of books in the YA genre dealing with touchy topics such as slavery and racism. In The Winner's Curse, the Valorians and the Herrani are enemies of one another. The Valorians conquered the Herrani Peninsula in the past, forcing them to all become slaves. The topic of slavery can be butchered easily, causing offence or inaccuracy in books, but Rutkoski does a great job of portraying it.
Kestrel is a strong female protagonist, but she makes the stupidest decisions sometimes! She is also quite stubborn, since she never tries to see things from the Herrani point of view. All she believes is that the Valorian are superior and that the Herrani deserve to be where they are now. But I guess if she was brought up on these types of ideas, it will be difficult to see history in a new light. She's also very smart! Her insight on battle strategy proves that she can be very cunning when she wants to be.
Another subplot of the book is that Kestrel's father wants her to become a soldier. There are two choices: be a soldier or marry. It's not everyday you get a strong female protagonist who refuses to fight. Yes, you read that right. Kestrel refuses to become a soldier
and
she isn't a good fighter. Her combat skills are basic, and she relies on blackmail and manipulation to win her battles. Again, this shows that she's smart. So why doesn't she want to be a soldier in her father's army? It's never specified
exactly
in the book, but I think it's because Kestrel - deep down - doesn't want to accept the responsibility that comes with becoming a soldier, and she would rather sit and do girly things with Jess, her best friend.
Arin is my favourite! He's sneaky, mysterious and hides most of what he thinks. Although, it's pretty obvious that he is in love with Kestrel. Does Kestrel love Arin back? For her, it's like a love/hate relationship. But I like how Arin doesn't let his feelings for Kestrel blind his judgement.
I love this book! It's a mix between Dystopia and (some hints of) Fantasy, though not too much. I will definitely be buying the next book!
"Isn't that what stories do, make real things fake, and fake things real?"